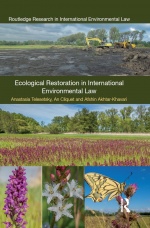 Ecological Restoration in International Environmental Law
Human activities are depleting ecosystems at an unprecedented rate. In spite of nature conservation efforts worldwide, many ecosystems including those critical for human well-being have been damaged or destroyed. States and citizens need a new vision of how humans can reconnect with the natural...
This is the first published book to examine comprehensively the relationship between international environmental law and ecological restoration. While international environmental law (IEL) has developed significantly as a discipline over the past four decades, this book enquires whether IEL can now assist states in making a strategic transition from not just protecting and maintaining the natural environment but also actively restoring it. Arguing that states have international duties to restore, this book offers reflections on the philosophical context of ecological restoration and the legal content of a duty to restore from an international law, European Union law and national law perspective. The book concludes with a discussion of several contemporary themes of interest to both lawyers and ecologists including the role of private actors, protected areas and climate change in ecological restoration.
https://www.routledge.com/Ecological-Restoration-in-International-Enviro...