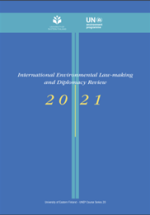 The Rise of Ecological Restoration Law: Evolution Becomes Revolution
International Environmental Law-making and Diplomacy Review 2021, Tuula Honkonen (editor), University of Eastern Finland – UNEP Course Series 20, 2023, 1-32.
An Cliquet examines the international law on restoration. Her analysis shows that an evolution can be discerned in the existing international law in this respect, from a rather implicit attention for restoration to a gradually more extensive and explicit attention for restoration. Nevertheless, gaps still exist in the current international regime on restoration: there is lack of clarity on how and where to restore; a too narrow focus on restoration of protected areas; and a lack of concrete and binding qualitative and quantitative targets for restoration in and outside protected areas. She then discusses three recent initiatives that could potentially ameliorate the current situation with regard to the international law on restoration: the UN Decade on ecosystem restoration; developments within the global biodiversity framework; and the proposal for an EU nature restoration law. She concludes that the discussed initiatives could be promising to accelerate the commitments and implementation of restoration at global level. Furthermore, a new legal principle of restoration could, over time, help to upscale restoration activities.