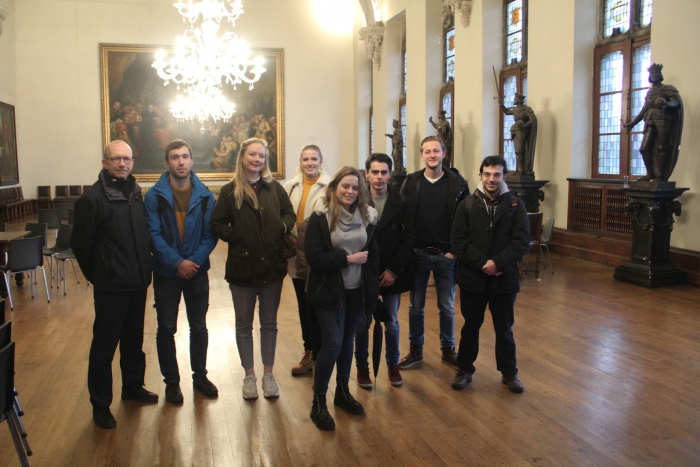 Visit City Hall 17 December 2019
The last field trip of the first semester was an unconventional one. The group was welcomed at the City Hall on Tuesday December 17 for a chat with Port Alderman Sofie Bracke. Afterwards, a visit to the cathedral was made to see the Ghent Altarpiece (The Adoration of the Holy Lamb) of the brothers Van Eyck, the most important work of Western art in our city. A perfect destination to mark the end of 2019 in beauty.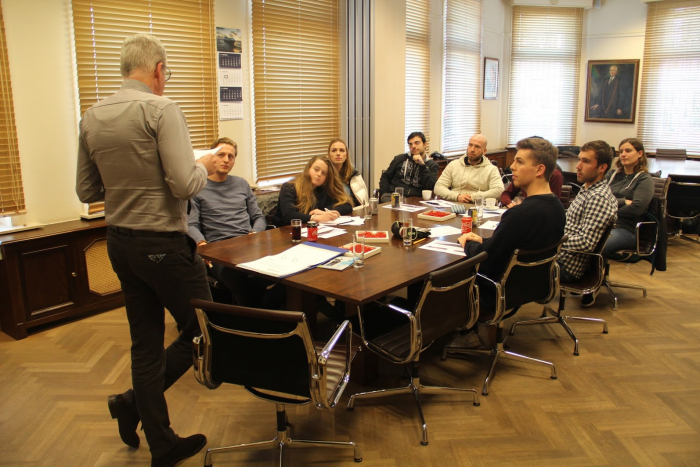 Visit Lalemant 3 December 2019
To start the last month of the year 2019, a visit was made to to 'transport architect' Lalemant on Tuesday December 3. The main focus of this field trip was on chartering, road haulage, inland navigation…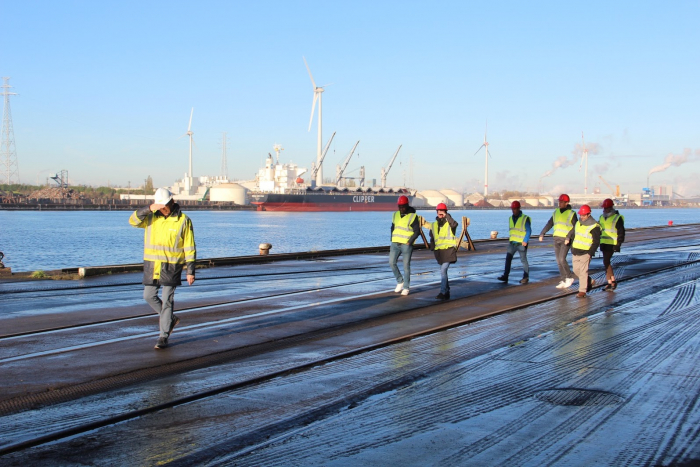 Visit Eurosilo 19 November 2019
On 19 November, the group made a field trip to Euro-Silo. The focus was on the grain trade and cereals and oilseeds terminal operations. After a global introduction on Euro-Silo, the students were given a guided tour of the installations. Before returning to the university, there was also a short visit to the harbour master coordination centre at North Sea Port.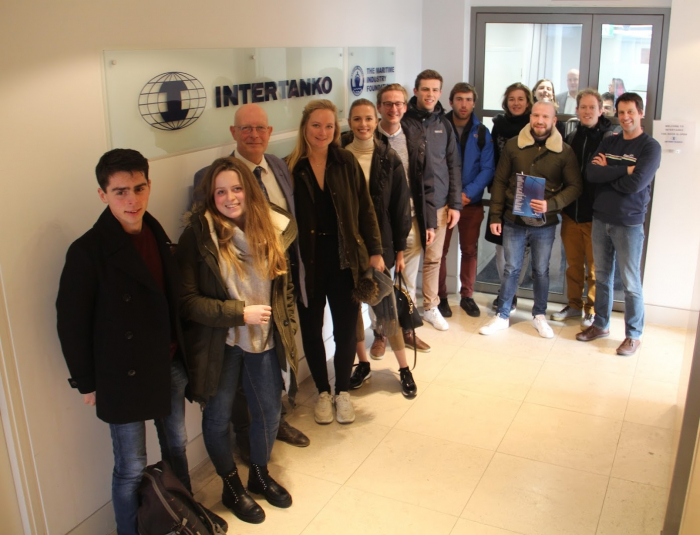 London study trip November 2019
Our MSc in Maritime Science students spent a busy and very interesting week in London from 10-14 November 2019. On the programme were maritime visits to Lloyd's Register, INMARSAT, the International Oil Pollution Compensation Funds, the International Maritime Organization, Intertanko/Intercargo, Marshall Islands Registry, Steamship Mutual  and the International Maritime Bureau. As usual, the trip was impeccably organised by teaching assistant Jean-Louis Vandevoorde.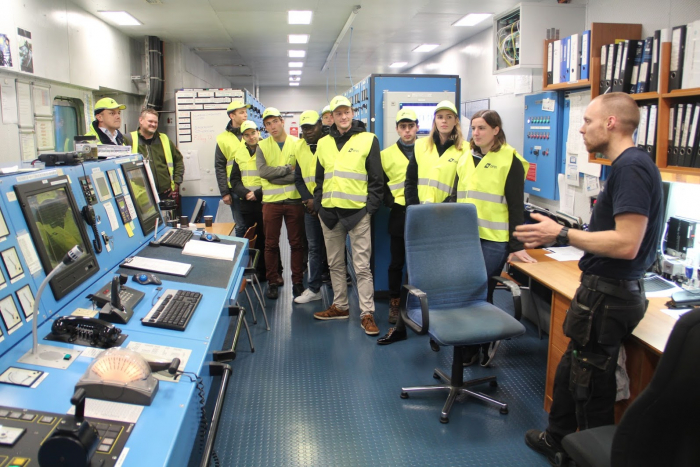 Visit DFDS 5 November 2019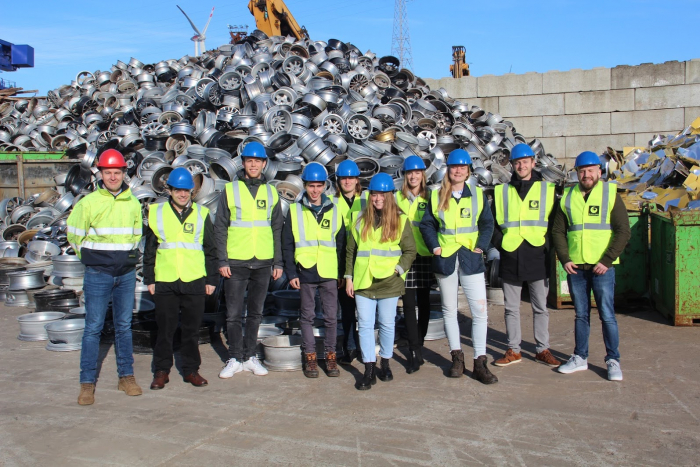 Visit Galloo 29 October 2019
On 29 October, the MSc group visited the recycling company Galloo, the impressive scrap terminal in the port of Ghent. The focus of the summery view outdoors was on dry bulk, scrap and ship recycling.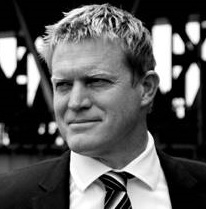 PhD Robert Makgill "Sustainable Management of the Sea: Identifying a Body of Sustainable Management Jurisprudence of Law of the Sea and New Zealand State Practice"
Mr. Makgill's thesis is that 'sustainable management of the sea' can be identified as a body of jurisprudence composed of law of the sea doctrine and New Zealand State practice. The principle of sustainable management is put forward as having conceptually evolved through classical and renaissance philosophy, natural law theories of the commons, 18th to 20th century law of the sea doctrine, UNCLOS, the Brundtland Report, and New Zealand legislation to comprise an overarching normative goal for proposed use and development of the marine environment. Moreover, it is contended that the principle's prioritisation of scientific information on the receiving environment and the environmental effects of proposed activities, in favour of resource allocation or distributive justice, provides a more robust approach to the governance of the marine ecosystems as compared to the principle of sustainable development. Mr. Makgill is a New Zealand Barrister who practices public and environmental law. He appeared as counsel before the International Tribunal for the Law of the Sea (Seabed Disputes Chamber) in the Seabed Mining Advisory Opinion and numerous national proceedings concerning use and development of the territorial sea, exclusive economic zone, and continental shelf.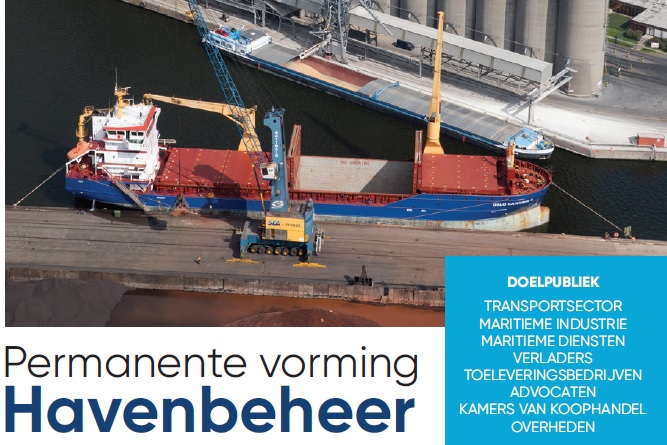 Permanente Vorming Havenbeheer 2019-2020
- IN DUTCH -
De Permanente Vorming Havenbeheer wordt opnieuw georganiseerd in academiejaar 2019-2020. We kijken uit naar de 22e editie van deze opleiding, die georganiseerd wordt door het Maritiem Instituut van de UGent o.l.v. Prof. Dr. Frank Maes, in nauwe samenwerking met North Sea Port.
Een overzicht van de 5 modules:
De haven in zijn bestuurlijke context, 16 oktober 2019
De stakeholders van de havencommunity,  20 november 2019
Infrastructuur en ICT: noodzakelijk voor de veilige en vlotte goederendoorstroming, 15 januari 2020
De haven als multomodaal platform en het havenbedrijf als regisseur van de goederenstromen, 19 februari 2020
De haven en zijn omgeving, 18 maart 2020
Het inschrijvingsgeld bedraagt 980 € en omvat het lesgeld, de syllabus, koffie en lunch. De brochure met inschrijvingslink kan u hier terugvinden.
Lees meer over onze opleiding in dit artikel op de website Flows.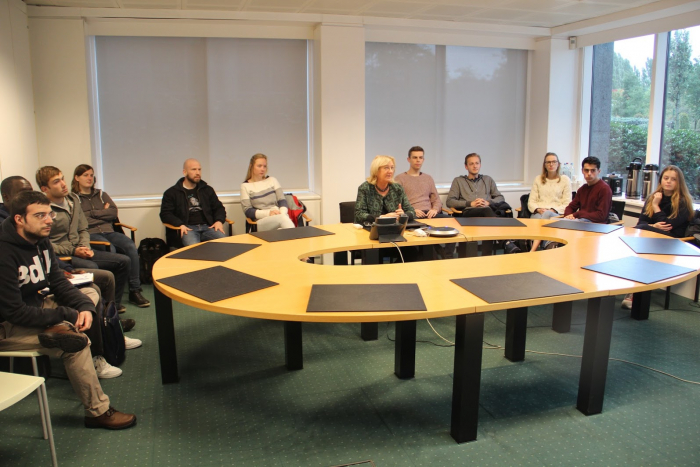 Visit Sea Invest 15 October 2019
The second field trip was made to Sea-Invest on 15 October 2019.  An very interesting opportunity for the MSc students, as this company is one of the major bulkhandling groups in Europe.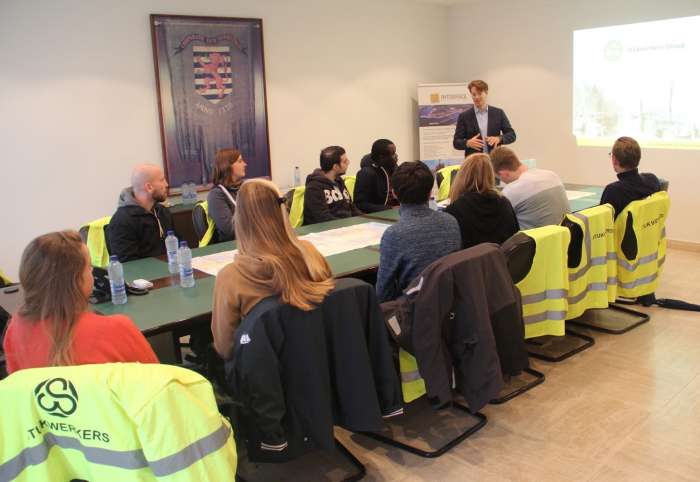 Visit Stukwerkers 8 October 2019
The second field trip took the group to the stevedoring company Stukwerkers on Tuesday October 8. After a global introduction on the company,  a bus tour was made to see some of their terminals in the port area. The focus of this field trip was general cargo.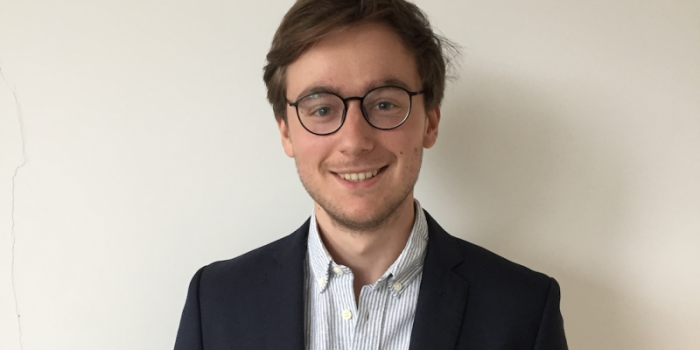 Flows Logistics Thesis of the Year: Gijs Boogers
De 'Flows Logistics Thesis of the Year' beloont het beste eindwerk van de logistieke opleidingen. Op 17/10 a.s. wordt de winnaar gekozen. Het Maritiem tijdschrift Flows stelt genomineerde  MSc in Maritime Science alumnus Gijs Boogers  voor, die een eindwerk maakte over de groei bij Maersk, MSC en CMA CGM.
Lees het volledig interview hier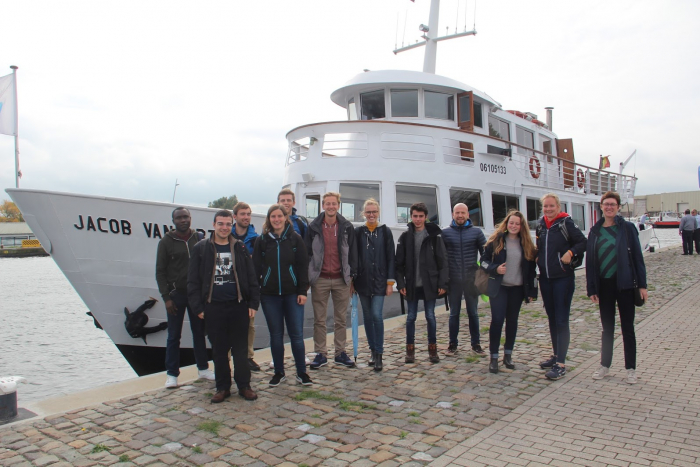 Visit North Sea Port 1 October 2019
No better way to start the new academic year 2019-2020 than to make a first field trip. On 1 October, the new MSc students visited North Sea Port Flanders in Ghent. After an introduction at the Visitors' Centre by the CEO of North Sea Port, Daan Schalck, also lecturer in the MSc in Maritime Science programme , there was a guided tour of the port.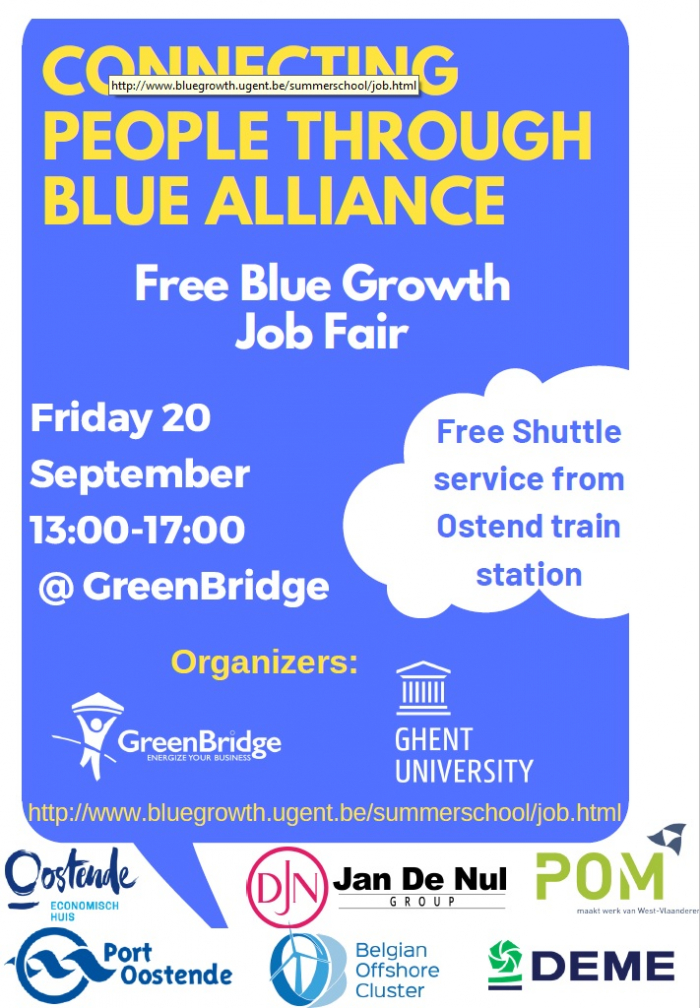 Blue Growth Job Fair
GreenBridge and partners host a unique job fair for Blue Growth companies, to offer a window of opportunity for both students and businesses.
Is your company looking for internships or candidates to fill up vacancies? Then don't miss out on our blue growth job fair!
INTERESTED TO PARTICIPATE?
bluegrowthsummerschool@ugent.be | 059 24 27 35
More information: www.bluegrowth.ugent.be/summerschool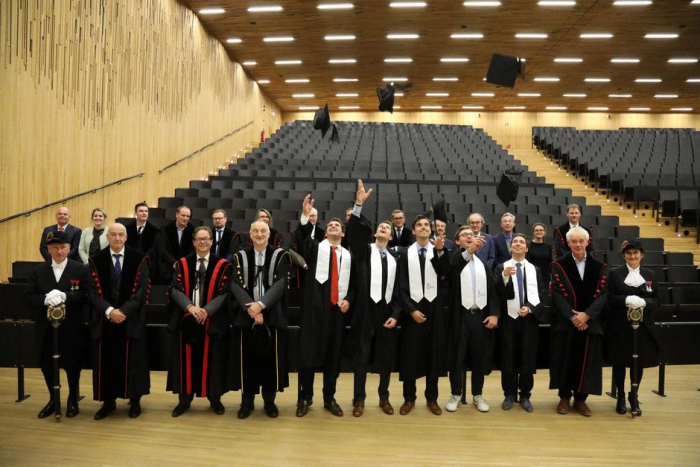 Graduation class 2018-2019
After a very busy academic year 2018-2019, we waved our graduating students goodbye. Happy sailing to you all, please keep in touch!!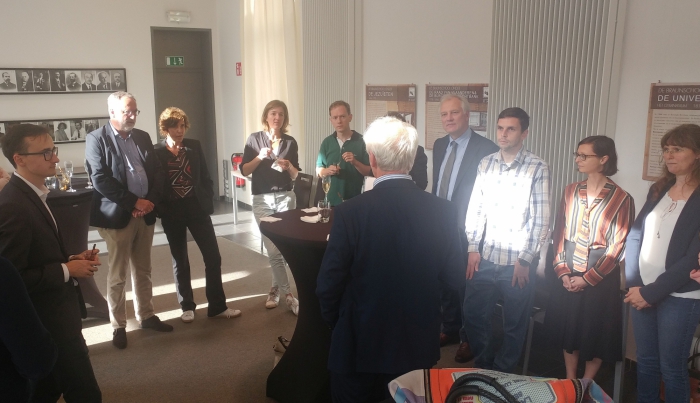 Proclamatie Havenbeheer 13 juni 2019
Op woensdag 13 juni 2019 vond de proclamatie plaats van de deelnemers van de Permanente Vorming Havenbeheer 2018-2019.
Indien u interesse heeft in deze permanente vorming; ook in 2019-2020 zal de opleiding georganiseerd worden. Meer informatie hierover vindt u terug in de 'education' sectie van de website van het Maritime Institute.
Maritiem Symposium 15 May 2019, Terneuzen
Naar jaarlijkse traditie vond in mei opnieuw het Maritiem Symposium plaats. Uniek was deze keer een nieuwe locatie voor dit evenement: het Bio Base Training center in Terneuzen.
Het 23ste Maritiem Symposium had als titel 'Big Data. Hefboom voor logistieke en maritieme optimalisatie en verduurzaming'. Het programma vindt u hier.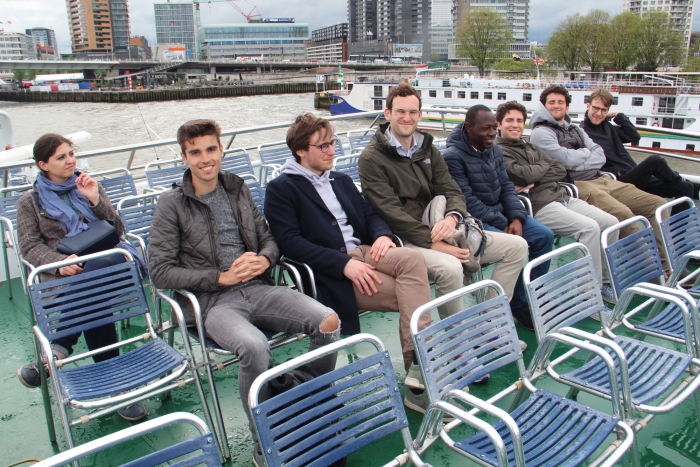 Visit Rotterdam 25 and 26 April 2019
The last field trip of our Maritime students took place on 25 and 26 April in Rotterdam. On this two day trip abroad, the students took a boat tour in the older part of the port of Rotterdam and  made a bus and a boat trip of the Maasvlakte II, the most recent seaward expansion of Europe's biggest port.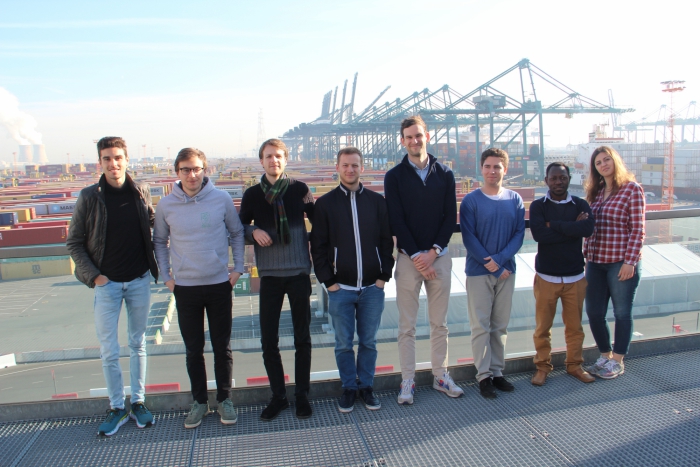 Visit Left Bank Scheldt, Antwerp 5 April 2019
On the third field trip of the 2nd semester, the students headed  to the port area on the Left Bank of the Scheldt in Antwerp. Visits were made to ship company MSC and the MPET containerterminal at the Deurganckdok, and the AET terminal of Grimaldi and Mexico Natie. Also a tour at the village of Doel was on the programme.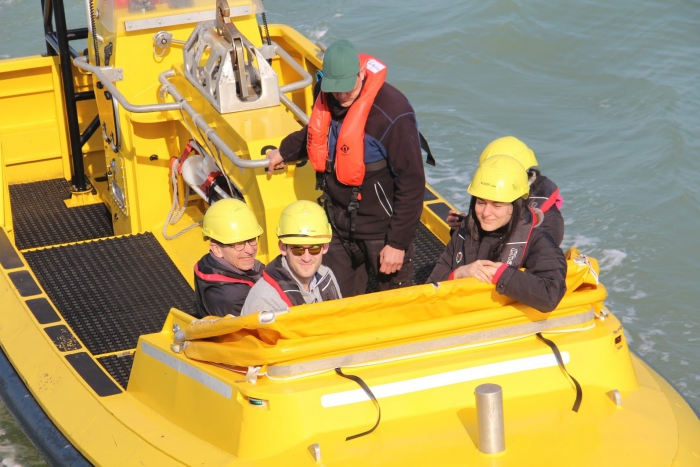 Boat Trip Ostend-Antwerp VLOOT 30 March 2019
A special day trip on the water, offered by VLOOT: a boat trip on the Sirius from Ostend to Antwerp on Saturday 30 March. The trip was guided by Captain Yves Goossens, general manager of VLOOT.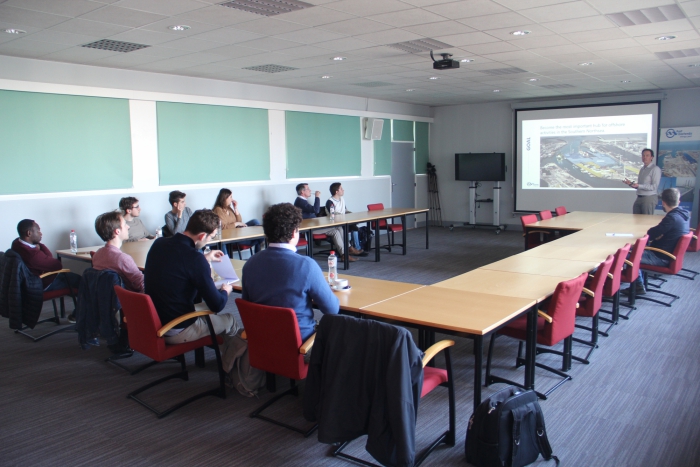 Visit Ostend 22 Maart 2019
On March 22, the MSc group headed to Ostend for the second field trip of the 2nd semester. On the programme: a visit to Norther, which is installing a new wind farm on the Belgian part of the North Sea, the Maritime Rescue & Coordination Center (MRCC) and the Port Authority.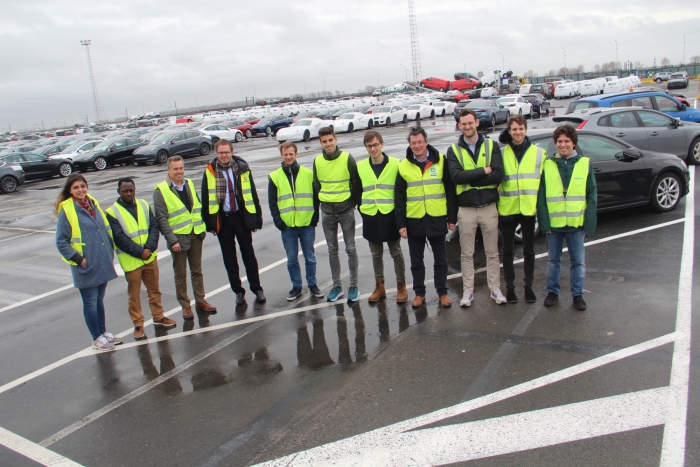 Visit Zeebrugge 15 March 2019
On the 15th of March a study visit was made to Zeebrugge: first there was a stop at the Port Authority and a bus tour through the port area and terminals of ICO, the biggest car handing company in the port. After a lunch offered by the Port Authority, the trip continued with a visit to ECS/2XL, a major logistic operator closely connected to port activity in Zeebrugge. Before heading back to Ghent, there was a small tour of a terminal of CLdN/Cobelfret, the biggest roro company operating from this port.