Lecture by Frank Hoffmeister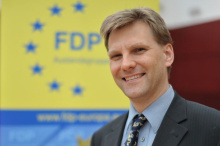 On 7 March 2023, Professor Frank Hoffmeister will give a public lecture (from 10.00 to 11.30) as part of the 2022-23 International Order & Justice Lecture Series at Ghent University (Volume IV).  The title of the lecture is 'The significance of international law for EU trade and foreign policy'. Professor Hoffmeister will also take part in a closed seminar (from 12.00 to 13.30) with (post-)doctoral researchers.
Prof. Dr. Frank Hoffmeister is a Director for General Affairs and the Chief Legal Officer at European External Action Services (EEAS) and Professor of International Economic Law in the LLM in International and European Law programme of the Brussels School of Governance. He holds a PhD from the University of Heidelberg and worked as an Academic Assistant at the Humboldt-University in Berlin. Since 2001, he has served as Member of the Legal Service and Deputy Head of Cabinet of the EU Trade Commissioner.