GUEST LECTURE ON THE GRAND ETHIOPIAN RENAISSANCE DAM (GERD) BY PROF. MOHAMED HELAL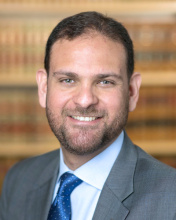 On Thursday 16 December at 16.30, GRILI will host an online guest lecture with Dr. Mohamed Helal (Ohio State University) on the international law aspects of the Grand Ethiopian Renaissance Dam (GERD) (for some of his previous writings on the issue, see here).
The event is open to all interested participants. External participants are, however, required to register beforehand by sending an e-mail to kristien.ballegeer@ugent.Be.
Mohamed HELAL is an Associate Professor of Law at the Michael E. Moritz College of Law. In 2020, he was elected to serve a five-year term on the African Union Commission of International Law, and in 2021 he was appointed to the Permanent Court of Arbitration (PCA). Dr. Helal specializes in Public International Law. His work has appeared in leading peer-reviewed journals including the European Journal of International Law, Global Constitutionalism, Climate Law, the American Journal of International Law – Unbound, the Florida Tax Review, the Harvard National Security Journal, the N.Y.U. Journal of International Law & Politics, and the Fordham International Law Journal.
Dr. Helal has substantial policy experience in the field of international law through many years of service as a diplomat and as an international civil servant. During the period 2019-2021, Dr. Helal served as the Legal Counsel to the Minister of Foreign Affairs of Egypt where he also advised on issues relating to African Affairs and relations with Nile Basin States. Earlier in his career, Dr. Helal also served on the Cabinet of the Secretary General of the League of Arab States during 2002 and 2003. He also joined the Egyptian Diplomatic Corps in 2004 and became a member of the Cabinet of the Minister of Foreign Affairs of Egypt from 2005 until 2009. During that period, he worked on issues relating to Multilateral Diplomacy and International Organizations, with a focus on human rights and humanitarian affairs at the United Nations, the Non-Aligned Movement, and the Organization of Islamic Cooperation.  In 2011, Dr. Helal joined the Bahrain Independent Commission of Inquiry (BICI) as the commission's legal officer, and he also served as the legal counsel to the Deputy Minister of Foreign Affairs of Egypt during 2016.